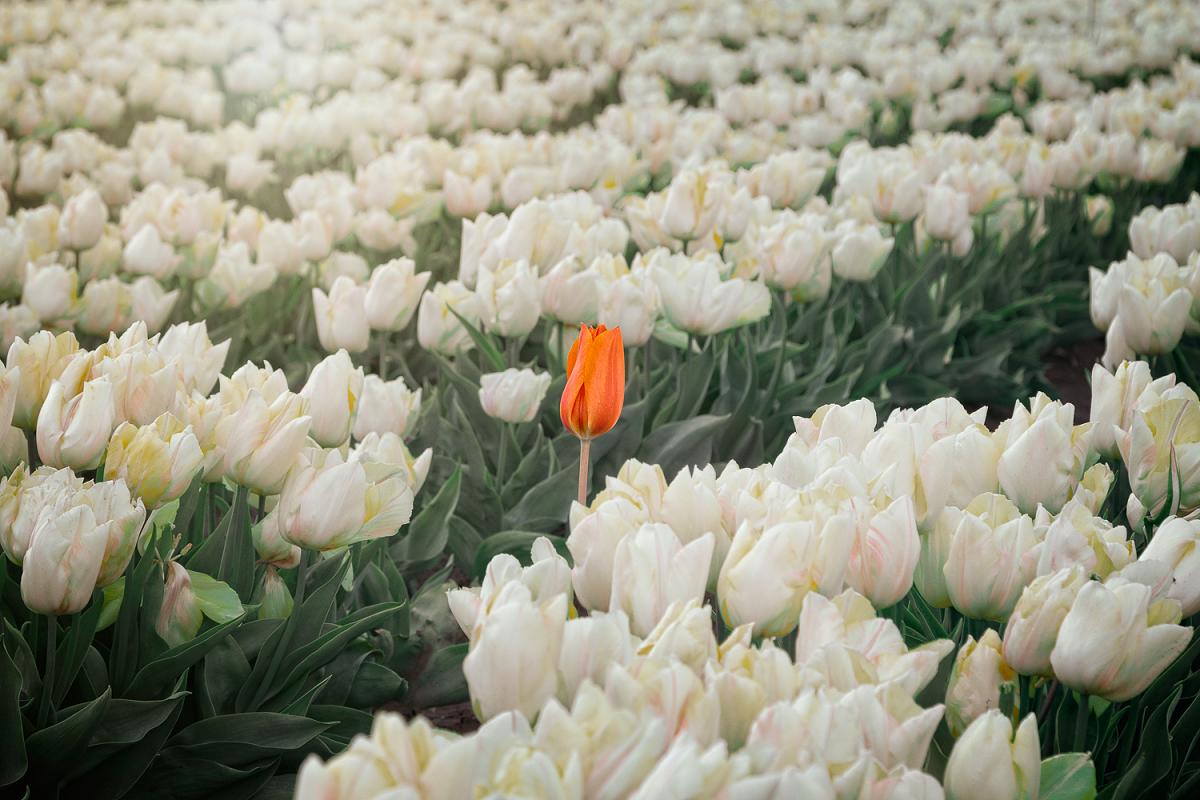 When I posted my photograph 'Together, Alone' of the lone orange tulip growing amongst the white tulips in the field, I had no idea I would get such a response. I had taken the photo a couple years back at the Wooden Shoe Tulip Festival while visiting some friends in Oregon.
Unfortunately this year, Wooden Shoe, like so many other small businesses, had to close their farm to the public due to Covid-19. At this point in California we were about a good two and a half weeks in to sheltering in place. Many people seemed to have different ideas of what that meant. Personally, I had given up an overseas holiday. Grrrrrr….. but was thankful for my health and that of my family and friends, tucked in safe at home.
People always respond to flower pics more than any others that I post online. No matter what channel you looked at they all seemed dire and I felt like this would be a way to spread a little cheer. I chose the name Together, Alone because that was how I was feeling. My friends and I talked on the phone, not texted, more than we have in quite a while. I do have to say, in times other than a pandemic, I would have probably gone with another title for this photo….something along the lines of individuality.
If you have read this long, you are probably wondering how Photoshop ties in? I've already stated I took took the picture so what's with the photoshop? Well, the response I wasn't expecting was from a dear friend of mine. She fell in love with this photo and wanted it as soon as I could get it to her. Not only that, she wanted to know all about it, where it was taken, and if I photoshopped that lone orange tulip in? I'm not really sure why that shocked me so much because she does know that I use Photoshop, but I was actually surprised! Not offended but surprised.
The lone colored tulip just happened to be growing up out of bounds from a row over to the right that you can't see in frame. That's what made the shot for me. What you can't see is that row was pink tulips, as was the orange tulip growing all alone - originally. But I don't do pink so that got changed in photoshop!
Take care everyone!
| | | |
| --- | --- | --- |
| What Caught My Eye | Recomposed for the Shot | Final Image |